Miscellaneous
Selected as a 2022 Rising Star in Networking and Communications
I was selected as an N2Women 2022 Rising Star in Networking and Communications. N2Women publishes a list of 10 inspiring women rising stars in computer networking and communications every year.
---
Invited Talk at the ACM WeCan Workshop in the SIGEnergy e-Energy Conference
We spoke about "Breaking the Barriers of Stranded Energy in Data Centers" at the 2nd ACM SIGEnergy Workshop on Society, Climate, and Sustainability (SIGEnegy WeCan).
---
Elected as Next G Alliance's Societal and Economic Needs Working Group Co-chair
I am happy to share that I have expanded my leadership role within the Next G Alliance, and I have been elected to chair the Societal and Economic Needs working group. I look forward to driving North America to be the leader in creating next-generation mobile networks that take Equity, Sustainability and Governance into account through the entire planning-research-deployment timeline.
---
Chairing LP-IoT Workshop @ Mobicom and ISCAS 'Feeding the Next Billion' Session
Do you work in low-power IoT? WOW! Submit to the 2nd annual LP-IoT workshop then! Deadline June 20: https://sites.google.com/uw.edu/lp-iot-2022/call-for-papers
---
Speaking at the 2022 Green Software Foundation Summit in Houston
I'll be sharing VMware's work on sustainable workload migration at the upcoming Houston edition of the 2022 Green Software Foundation Summit! The event begins at 10am central, and my talk begins at noon central.
---
Invited as speaker for the SIGMOBILE Community Engagement Program
If you want to learn more about radars, backscatter and harvesting power from dirt, tune in to my SIGMOBILE CEP Invited Talk on 4/6: "Enabling Sustainable Sensor Networks with RF Backscatter". It's happening at 9am PT.
---
Brooklyn 6G Summit: Towards Sustainable 6G
I was recently a panelist at the virtual Brooklyn 6G Summit (B6GS) moderated by Joe Madden and hosted by Nokia, IEEE and New York University, where myself, Carsten Baumann and others discussed the path to achieving sustainable 6G. You can check out the recording here: Towards Sustainable 6G Panel
---
The Path Toward Sustainable 6G
"Tackling sustainability is a challenge that requires thinking beyond renewable energy…the ICT industry has a crucial role to play in reducing GHG emissions."
---
Selected as GreenG Working Group Co-chair
I have been selected as co-chair for the GreenG Working Group, which is part of the Atis NextG Alliance. The mission of the Green G Working Group is to position North America as the global leader in environmental sustainability in future generations of wireless technology or "Green G." The work addresses reducing Next G technologies' energy consumption and environmental impact. It involves assessing environmental impacts, such as water and materials consumption; exploring the use of renewable and/or ambient energy; and investigating how the ICT industry can help other related industries reduce their environmental footprint.
---
Selected as a 2020 Rising Star in EECS
I was selected as a 2020 Rising Star in EECS. Rising Stars is an intensive workshop aimed at increasing the numbers of women interested in pursuing academic careers in computer science, computer engineering and electrical engineering. Participants are selected based on academic excellence, interest in a faculty career in the EECS discipline, and commitment to advancing equity and inclusion.
---
Your movements are being tracked down to the inch\! (Priceton "Cookies" Podcast Interview)
In 2019 I co-authored a blog post at freedom-to-tinker with Yan Shvartzshnaider (NYU Fellow) about the potential for detailed indoors location tracking using UWB technology that is included in new Apple iPhones and Cisco APs. We were interviewed a few month later by Aaron Nathans at the Princeton School of Engineering and Applied Sciences for their new podcast called "Cookies: Tech Security & Privacy".
---
Every move you make, I'll be watching you: Privacy implications of the Apple U1 chip and ultra-wideband
I co-authored a blog post at freedom-to-tinker with Yan Shvartzshnaider (NYU Fellow) about the potential for detailed indoors location tracking using UWB technology that is included in new Apple iPhones and Cisco APs.
---
Wireless Soil Moisture Sensing a Finalist at the MIT Research Slam
Our work on wirelessly sensing soil moisture research was a finalist at the MIT Research Slam in Palo Alto, CA.
---
secure.endless.horse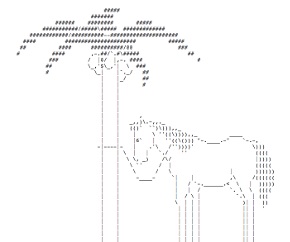 In early 2017, I received a request to add HTTPS functionality to
endless.horse
. I was about to take quals, and a whole lot of other stuff was going on, so replied that I'd add it to my TODO list but it might take a while. Two years, in fact, but
secure.endless.horse
is finally live.
---
Electronic Music Composition
When I started at Stanford I took advantage of the world-renowned CCRMA (Center for Computer Research in Music and Acoustics). In 2017 I audited the Music 220a course, Fundamentals of Computer-Generated Sound. One of the assignments was to make a binaural sound play.
---
2015: endless.horse
A website of a horse with unusually long legs.
---
Sax-a-ma-phone
While at MIT I received a music minor and was also an active baritone saxophone player. I participated in the Festival Jazz Ensemble and Chamber Music Society Jazz Combos. I still play, but informally and less frequently. My senior year was the 50th anniversary celebration of the Jazz Ensemble, during which we debuted a couple of new compositions. One of them was From Forever by Chick Corea. We even did an official recording session at the WGBH studios in Boston, which you can listen to here (excerpt embedded below).
---